Artist Opportunities showcases what is new and happening around the area for artists to get involved in, whether that's workshops, grants, conferences, or shows open for entry. Let us know what you have open for entry by sending an email to mdfedartmembernews@gmail.com
OPEN FOR ENTRY
Pennsylvania Watercolor Society 39th Annual International Juried Exhibition: 5/15
Pennsylvania Watercolor Society is hosting their 39th Annual International Juried Exhibition taking place September 15 – October 20, 2018, at the Crary Art Gallery, Warren, PA. All work must be original, less than 3 years old, and never shown in any other juried show or PWS member show.
Entry fees: Members ($25), for Non-Members ($40). Deadline: May 15th
Fill out the application here.
For more information, click here. OR contact John at pwsjuriedshow@gmail.com.
The Stamp Gallery at the University of Maryland
The Stamp Gallery at the University of Maryland invites you to submit images of your work to its second summer exhibition, Beautiful Lacunae. Beautiful Lacunae will provide a platform for artists with non-English native languages to present their work in its most natural, intended form. Labels will be written in the artist's native/chosen language, and a pop-up library—created collaboratively with exhibiting artists—will be available for visitors to investigate cultural references further.
Artists are encouraged to submit 2-D or 3-D work in any medium, including digital, installation, performance, text, and sound. There is no size restriction. All submissions must be received by May 21. Accepted artists will be notified at the end of May. QUESTIONS: Grace DeWitt at stampgallery@umd.edu.
No entry fee. 
Deadline: May 21 
For more information, click here.
Washington Sculptors Group Call For Entries: MICRO-MONUMENTS II: UNDERGROUND
MICRO-MONUMENTS II: UNDERGROUND aims to generate a new dialogue that resonates with sacred places, sanctuaries, native lands, excavation sites, and extraordinary scientific findings.
The inaugural MICRO-MONUMENTS exhibition took place in 2015 at the Landesmuseum in Schönebeck, Germany, as a collaboration with the Washington Sculptors Group, in a cross-cultural, trans-Atlantic project. Building on the themes and success of this exhibition, MICRO- MONUMENTS II: UNDERGROUND will include the overall context of prehistoric, historic, and contemporary monuments across cultures.
The intention of MICRO-MONUMENTS II: UNDERGROUND is to reveal a deeper understanding of people's lives in history, and to allow contemporary artists to interpret topics of the cosmos and nature in order to reimagine monuments in our current culture.
For more information, please visit www.washingtonsculptors org.
Deadline: Wednesday, May 9, 2018 (midnight)
Maryland Hall for the Creative Arts is seeking ongoing exhibition submissions
Dedicated to Art for All, Maryland Hall for the Creative Arts is the community's arts center, providing lifelong, accessible engagement in the arts. They invite both student and professional artists to apply, local and regional artists, for their three gallery spaces.
Maryland Hall's goal is to present exhibits that engage audiences on many levels, from community exhibits to curated group and solo exhibits in several galleries: the Chaney Gallery, the Martino Gallery and the Openshaw Balcony Gallery. The gallery season features emerging and established artists in all media, from more accessible, traditional work, to work that questions contemporary culture, methods and ideas. The galleries are open to the public for viewing, artists' receptions, and sales.
Applications must be completed and submitted by email to Exhibition Coordinator, Emily Kohlenstein, at ekohlenstein@mdhallarts.org. For additional questions call Ms. Kohlenstein at 410-263-5544 ext. 31. Submission Deadline: Rolling for the 2018-2019 Season
Click here to download application. Incomplete applications will not be considered.
Click here for more information.
Gallery 102 Call for Proposals
Gallery 102 invites exhibition proposals for our Fall 2018 season. They are seeking group shows of any medium. They encourage you to visit and tour the space.
APPLICATION INCLUDES:
Exhibition Proposal (250 Word Max)
Bio & CV
Up to 10 images and checklist
Submit the completed application to HERE.
The gallery is no longer accepting exhibition proposals sent directly via email. All proposals must be submitted through the link above.
Target Gallery Juxtaposed Call for Entries
Target Gallery invites artists working in all visual media to submit to Juxtaposed, a group exhibition focusing on the contradictory or conflicting. Whether it be through the use of mixed media or the themes represented, the work itself should be at odds with two or more juxtaposing concepts.
The link to the application is here: http://torpedofactory.org/artopps .
For more information, click here.
Brentwood Arts Exchange Seeks Instructors
The Brentwood Arts Exchange is expanding its class offerings with the addition of a computer lab as well as a new event space that can be used for classes. Their goals are to meet community interest in hands-on arts activities, to provide in-depth learning opportunities for teens using technology in the arts, and to provide affordable access to technology for artists.
If you are interested in teaching classes at the Brentwood Arts Exchange, please send your resume and a proposal describing classes that you would like to teach. Proposals should include class titles, the age ranges for the students, the ideal number of class sessions and class durations, and descriptions of the classes that are not more than two paragraphs. Of special interest are proposals for classes for teens and adults in the computer lab, which will have 8 workstations, a large format printer, and 3D printer. Please understand that regulations require that most instructors become employees of The Maryland-National Capital Park and Planning Commission.
Email proposals to Phil Davis, Countywide Arts Coordinator phil.davis@pgparks.com.
Joe's Movement Emporium Seeking Part-Time Employees
Position Overview
The Arts Education Department provides year-round service in the visual and performing arts that meets after school and during the summer. The Arts Education Program Assistant position assists in daily service delivery to 60-75 children ages 5 – 12.Knowledge, Skills, Abilities
An excellent candidate has an ability to motivate children through positive reinforcement, conflict resolution, collaboration, and leadership skills. Knowledge and experience in class management is required. Knowledge of one or more arts education areas is essential to supporting participants. Program Assistants are expected to play, create and participate as an example to students actively engaged in the creative process.
Click to learn more: http://www.joesmovement. org/arts_education_job
The Art League's Tabletop Call for Entries
The Art League's Tabletop exhibit will showcase the artistry of various functional wares and pieces associated with the table and the presentation and serving of food and drink. Accepted media include ceramics, metal, fiber, wood, and glass.
Submission guidelines: Digital Entry Deadline: June 15, 2018. Entry to this exhibit is open to all artists. Entry fee: $30 for up to three works.  Accepted artwork must arrive to The Art League (via UPS, FedEx, or in-person) by July 2.
For more information, click here.
Bold Expressions 2018, Northern California Arts, Inc. 63rd International Open Juried Art Exhibit.
NCA, Inc. located in Sacramento Area invites you to submit your original artwork, no photography, film or crafts.  Juror:  Margarita Chaplinska (http://www.artchief.com/).
Online application deadline Aug 11, 2018; exhibit date:  Oct 2-28, 2018.  Best of show $1,000, $3,000 total cash & gift awards.
For detailed Artist's Prospectus: norcalartsinc.org & click on call to artists.  "NCA Bold Expressions 2018."
WORKSHOPS, OPEN HOUSES, ARTIST CONFERENCES, FUNDRAISERS:
Programs for Students with Special Needs
Arts integration is a valuable tool for reaching multiple learning styles across the curriculum and is linked to enhanced academic outcomes and social/emotional development for children, including those with special needs. 
As an inclusive organization, Young Audiences' goal is to bring high-quality, arts-integrated instruction that is accessible, supportive, and welcoming to children of all backgrounds and abilities into the classroom. 
Inclusion Training for YA Roster Artists:
As a Wolf Trap Institute affiliate, we are making great strides in the community by providing inclusion training for our teaching artists, preparing them to build a nurturing environment that promotes acceptance in any classroom.  Some examples of accommodations we have provided in the past include preferential seating, visual schedules, language-adapted materials, and use of school-provided communication devices.
To expand our in-depth knowledge, last year nine YA teaching artists applied their training in a series of residencies at William S. Baer and Sharp-Leadenhall school.


All artists customized their residency programs using best practices to teach students with special needs. Baer school residencies focused on accommodations for children with severe multiple challenges including orthopedic disabilities, fragile health conditions, developmental and mental delay as well as other health impairments. Sharp Leadenhall focused on practices for children with emotional and behavioral disabilities. 
Master teaching artist Sue Trainor observed and provided feedback to YA artists, who also received 12 hours of training with Disability Rights Maryland on topics like:
Person First Language, Adaptive Technologies, Techniques for Differentiation, Reasonable Accommodations, Lesson Plan Development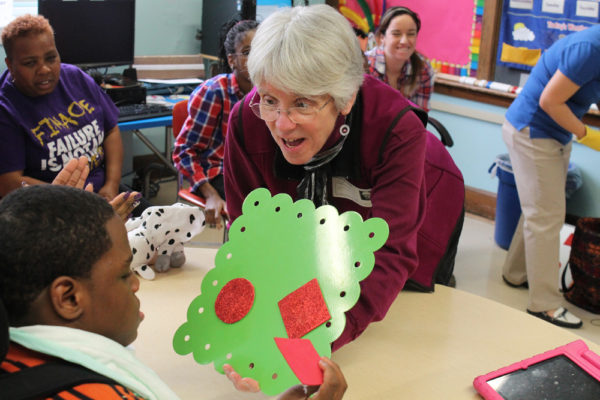 YA Inclusion Testimonials:
Wow! My experience have been awesome! The respect of each professional's talents and experiences and being "open and flexible" to suggestions and student  responses have been key elements to our own success"
-Linda Woodward, pre-K–3rd-grade teacher at William S. Baer School
I learned how to teach patterns to help with predictions of movements, to reinforce body awareness, to use stimulation like a dance break to transition to another activity, and use tactile picture cues. Anna [Menendez] did a wonderful job! It was a pleasure working with her!"
-Ms. D. Peals and Ms. M. Lyons, Pre-K teachers at William S. Baer School
200 Square Foot PRIVATE Studio Available on H Street NE
Rare 200 square foot studio on H Street NE available for May 1 occupancy. Space zoned for artist use only.  Please DO NOT inquire about other uses.
Features:
– 200 Square Feet (one of four studios)
– 24/7/365 Access
– Private studio space with private entrance
– In building with three other professional, full-time artists (painters)
Call 202.468.5277 or email phutinet [at] yahoo [dot] com for an immediate showing.
For more information, click here.
Howard Hughes Corporation Launches MD AIR Program
We are excited about the new collaboration with Howard Hughes Corporation to establish the Merriweather District Artist in Residence Program (MD AIR) – in Howard County.  Up to 3 artists will receive a $10,000 stipend, studio space, and living space to create new work in our community
 from

June 1 – July 31, 2018

.  
MD AIR is open to local, national and international artists working in all media including, but not limited to, performance, video, 2-D and 3-D visual arts, dance, music, and the spoken word; priority consideration will be given to artists exploring light, music, technology and/or interactivity in their work.
Art Teacher Needed
Kimmary I. MacLean is looking for artists interested in teaching art classes in Edgewater, Maryland at The Creative and Performing Arts of South County (www.ArtsofSoCo.org). They are located at 3259 Solomons Island Road (the KMart Shopping Center on Route 2) between WEIS and West Marine. They are looking for all ages and a variety of media; workshops, camps, and regular weekly classes. To fulfill this need she is expecting to work with several artists.
Looking for Artist
In need of an artist to create a design to be used at eco-madeclub.com. Upon visiting the site just go to the art of the month.  Donations from your design would go to The Global Orphan Protect and the charity of your choice.
Click here for more information.
 Guarisco Gallery: Senior Gallery Associate for Marketing and Sales in DC
Guarisco Gallery is seeking a seasoned Senior Gallery Associate for Marketing and Sales with 5+ years of relevant experience for a large, international, nineteenth and early twentieth-century art gallery in Washington, DC.
Responsibilities include marketing, promotional and outreach logistics for a large commercial gallery
- Coordinating daily with the gallery owner on projects
- Generating retail sales and marketing tactics
- Putting together print and digital presentations
- Producing print catalogs and brochures.
For more info about the position click here!
Have a grant you want to get the word out about? Maybe a workshop you're leading in a few weeks? Send us an email to get the word out about it! Contact MFA with the what, when, and where of your opportunity, and an image at mdfedartmembernews@gmail.com