Artist Opportunities showcases what is new and happening around the area for artists to get involved in, whether that's workshops, grants, conferences, or shows open for entry. Let us know what you have open for entry by sending an email to mdfedartmembernews@gmail.com
OPEN FOR ENTRY
CONTEMPORARY TEXTILES FAIR 2019
Preview Evening Friday 22nd March | 6pm – 8.30pm
Saturday 23rd – Sunday 24th March | 10am – 5pm
The Contemporary Textiles Fair is a well-established, high quality and highly regarded event, held in the magnificent Grade II* gothic surroundings of the Landmark Arts Centre in Teddington, South-West London.
The fair is almost unique in its focus on textile artists & designer makers, unencumbered by suppliers, DIY kits, and other craft disciplines. It is this clear focus, together with the unique setting and returning visitors that make this event both enjoyable and successful, year after year.
The Contemporary Textiles Fair is somewhere textile enthusiasts, collectors and art lovers can come to find artworks with texture, wearable masterpieces, handmade homeware, and unique curiosities. This isn't granny's knitted teacosy territory, this is contemporary quality! From stitched wall-hangings with conceptual significance, to carefully designed and hand-crafted objects; this fair does not discriminate – the art/craft barrier fades away to reveal exceptional talent in textiles.
For more information, click here.
Fusion Art invites submissions for its 8th quarterly online art competition – Into the Wild.
For this art competition, 2D and 3D artists, worldwide, are encouraged to submit their best work depicting wildlife. The wildlife theme includes any undomesticated animal species including any wild mammal, wild fish, wild bird or wild reptile.
The artwork can range from realism to surrealism to abstraction and all artists, regardless of location or experience, are encouraged to submit their best representational or abstract wildlife art and photography.
A three-month group online exhibition will be featured on the Fusion Art website starting October 15, 2018 through January 14, 2019.
Best in Show and 2nd through 5th Place awards will be given. The Best in Show winners will be invited to Fusion Art's 3rd Annual Group Show in Palm Springs in February 2019.  The top five award -winning artists in each category will have their winning artwork included in Fusion Art's new gallery on Artsy.net.
Winners and finalists are provided with worldwide exposure, by having their work promoted through Fusion Art's website, in Fusion Art's Artsy.net gallery, in hundreds of release announcements, email marketing, online event calendars, art news websites and through the gallery's social media outlets.
Please visit https://fusionartps.com/into-the-wild-art-competition-2018/ for full competition guidelines and to submit.
The deadline to enter is September 22, 2018.
Contact Information:
Valerie Hoffman – Fusion Art – info@fusionartps.com
Application Fee:
$20 for 1 image / $35 for up to 5 images
Enter the Outwin Boochever Portrait Competition (DC)
Deadline: September 3. The Smithsonian's National Portrait Gallery is accepting submissions to its fifth triennial Outwin Boochever Portrait Competition. This year, the competition will focus on broadening the definition of portraiture while highlighting the genre's relevance in contemporary art and culture. The first-prize winner will receive $25,000 and a commission to portray a remarkable living American for the National Portrait Gallery's collection. Additional cash prizes will be awarded. Submissions from each finalist will form The Outwin 2019: American Portraiture Today exhibition, which will be displayed at the Portrait Gallery from November 2,, 2019, through September 7, 2020, before traveling to other cities in the United States. Previous competitions have received more than 3,000 entries.
Call for Solo & Group Exhibition Proposals (OH)
Deadline: September 7.  The Fitton Center for Creative Arts, a community art center in Hamilton, Ohi,  is accepting proposals in all visual art media for solo and group exhibitions for the 2019-2020 schedule.  We also offer group shows of existing guilds or alliances and to individuals willing to be selected into a curated group show.  A completed Online Submission Form that includes file uploads of 150-word Artist Statement, 150-word Presentation Statement, CV, 10 artwork JPEGS with corresponding Image List and $25 non-refundable fee are required for gallery proposals. Get full requirements and submit your proposal online at the Fitton Center website.
Art Design Consultants Art Competition & ACA exhibition
We at Art Design Consultants want to invite you and your artists to submit to our annual art competition and exhibition ACA, Art Comes Alive. Our competition was created to recognize artists for their dedication to their craft and their hard work.
Nationally recognized as "The Academy Awards for Artists", there is no other event that celebrates the visual arts by awarding over $300,000 to artists in a variety of categories including purchase awards, gallery contracts, publishing contracts and more!
Please see the attached easily-shared document for artist testimonials and important dates!
LEARN MORE ABOUT ACA: https://adcfineart.com/pages/aca
JURORS: https://adcfineart.com/pages/aca-jurors
If you have any questions, please feel free to reply to this email or contact our relationship manager, Tanya Bartlett, at tanya@adcfineart.com.
Maryland Hall for the Creative Arts is seeking ongoing exhibition submissions
Dedicated to Art for All, Maryland Hall for the Creative Arts is the community's arts center, providing lifelong, accessible engagement in the arts. They invite both student and professional artists to apply, local and regional artists, for their three gallery spaces.
Maryland Hall's goal is to present exhibits that engage audiences on many levels, from community exhibits to curated group and solo exhibits in several galleries: the Chaney Gallery, the Martino Gallery and the Openshaw Balcony Gallery. The gallery season features emerging and established artists in all media, from more accessible, traditional work, to work that questions contemporary culture, methods and ideas. The galleries are open to the public for viewing, artists' receptions, and sales.
Applications must be completed and submitted by email to Exhibition Coordinator, Emily Kohlenstein, at ekohlenstein@mdhallarts.org. For additional questions call Ms. Kohlenstein at 410-263-5544 ext. 31. Submission Deadline: Rolling for the 2018-2019 Season
Click here to download application. Incomplete applications will not be considered.
Click here for more information.
WORKSHOPS, OPEN HOUSES, ARTIST CONFERENCES, FUNDRAISERS:
PILOTENKUECHE, Leipzig / Germany Intern
April – June 2019
"PILOTENKUECHE" is an international art program based in Europe's boomtown Leipzig, Germany. The independent project is organized by artists with a transdisciplinary background between art, theory & diverse sciences.
The program invites selected artists from around the world to come and work in the fully remodeled space for a period of three months. Our concept encourages experimental strategies and embraces a trans-disciplinary ethos, aiming to provide our participants with the experience of accomplishing something collectively. In a group of around eleven participants, a stimulating dialogue becomes vital in fostering an independent position in one's work.
Within the "International Internship Program" we would like to allow students, enthusiasts, and anyone interested, to gain insights into the activities of the team of PILOTENKUECHE, to expand their own knowledge and skills, and to work in a social environment for a period of 3 months. We're looking for interns to participate on our program from April – June 2019 until 30.09.18.
TERM: April – June 2019
DEADLINE: Sept 30
For more information, click here.
Programs for Students with Special Needs
Arts integration is a valuable tool for reaching multiple learning styles across the curriculum and is linked to enhanced academic outcomes and social/emotional development for children, including those with special needs. 
As an inclusive organization, Young Audiences' goal is to bring high-quality, arts-integrated instruction that is accessible, supportive, and welcoming to children of all backgrounds and abilities into the classroom. 
Inclusion Training for YA Roster Artists:
As a Wolf Trap Institute affiliate, we are making great strides in the community by providing inclusion training for our teaching artists, preparing them to build a nurturing environment that promotes acceptance in any classroom.  Some examples of accommodations we have provided in the past include preferential seating, visual schedules, language-adapted materials, and use of school-provided communication devices.
To expand our in-depth knowledge, last year nine YA teaching artists applied their training in a series of residencies at William S. Baer and Sharp-Leadenhall school.


All artists customized their residency programs using best practices to teach students with special needs. Baer school residencies focused on accommodations for children with severe multiple challenges including orthopedic disabilities, fragile health conditions, developmental and mental delay as well as other health impairments. Sharp Leadenhall focused on practices for children with emotional and behavioral disabilities. 
Master teaching artist Sue Trainor observed and provided feedback to YA artists, who also received 12 hours of training with Disability Rights Maryland on topics like:
Person First Language, Adaptive Technologies, Techniques for Differentiation, Reasonable Accommodations, Lesson Plan Development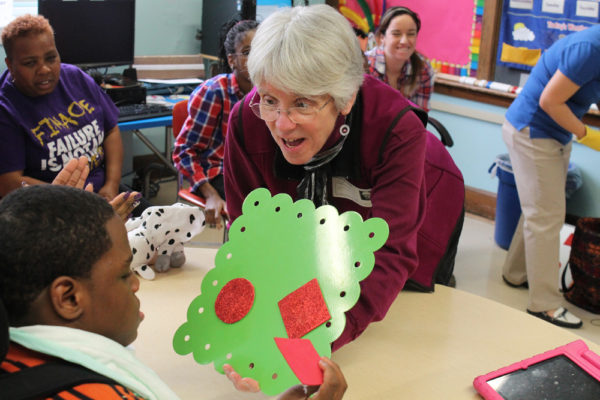 YA Inclusion Testimonials:
Wow! My experience have been awesome! The respect of each professional's talents and experiences and being "open and flexible" to suggestions and student  responses have been key elements to our own success"
-Linda Woodward, pre-K–3rd-grade teacher at William S. Baer School
I learned how to teach patterns to help with predictions of movements, to reinforce body awareness, to use stimulation like a dance break to transition to another activity, and use tactile picture cues. Anna [Menendez] did a wonderful job! It was a pleasure working with her!"
-Ms. D. Peals and Ms. M. Lyons, Pre-K teachers at William S. Baer School
Guarisco Gallery: Senior Gallery Associate for Marketing and Sales in DC
Guarisco Gallery is seeking a seasoned Senior Gallery Associate for Marketing and Sales with 5+ years of relevant experience for a large, international, nineteenth and early twentieth-century art gallery in Washington, DC.
Responsibilities include marketing, promotional and outreach logistics for a large commercial gallery
- Coordinating daily with the gallery owner on projects
- Generating retail sales and marketing tactics
- Putting together print and digital presentations
- Producing print catalogs and brochures.
For more info about the position click here!
Have a grant you want to get the word out about? Maybe a workshop you're leading in a few weeks? Send us an email to get the word out about it! Contact MFA with the what, when, and where of your opportunity, and an image at mdfedartmembernews@gmail.com